PRESS RELEASE: The award ceremony of the A. Le Coq 58th Moonsund regatta took place in Pärnu |
Seven days of the marathon offshore regatta found its festive conclusion in Pärnu on July 25. The 300 nautical miles regatta took 114 yachts and almost 700 sailors from Estonia, Latvia, Lithuania, Russia and Finland from Tallinn to the final destination Pärnu Yacht Club through Kärdla, Kuivastu and Roomassaare harbours. Award ceremony was held both to the winners of the A. Le Coq 58th Moonsund regatta and the Estonian Folkboot and ORC III champions.
The final and decisive races of the regatta were held on a 7-8-mile upwind-downwind course. There was enough excitement until the very end of the races in all classes and also on the shore where jury chairman Bernard Bonneau from France had to solve numerous conflicts and infringements. The long wait was over by eight in the evening and the best teams got awarded.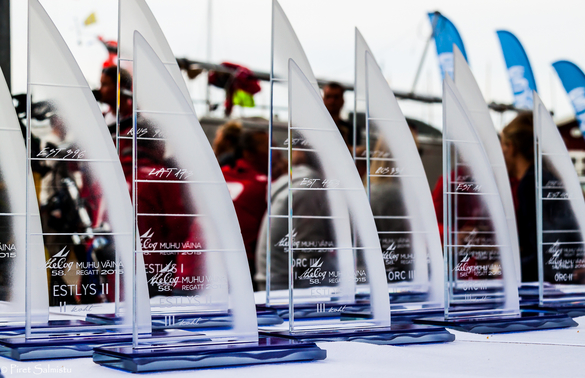 Trophies by Agnes Torm, Disainklaas (c) Piret Salmistu
The fastest of short races in ORC I, Jaak Jõgi on Forte from Kalev Yacht club, also rose to second place overall and finished with 14 points. The class winner of the regatta was Tiit Vihul's team on Olympic from Dago Yacht club with 13 points. Captain Eero Pank's yacht Reval Cafe Elisa ST from Kalev Yacht club, who had two race wins from the regatta, finished third overall. There were nine yachts racing in the group.
OLYMPIC EST463, Jahtklubi Dago – Tiit Vihul, Indrek Ulla, Aivar Kaljumäe, Tanel Trööp, Raul Vane, Marko Ollik, Tarmo Vesberg, Joel Timm, Rauno Kiik, Jana Kiik, Raul Grigorjev, Kaarel Härma, Raul Vinnal, Meelis Pielberg.
FORTE EST475, Kalev Jahtklubi – Jaak Jõgi, Indrek Rajangu, Indrek Lepp, Kalev Vapper, Martin Kaal, Kalev Kaal, Marko Nüüd, Veiko Sepp, Tammo Otsasoo, Tauno Tõnus
REVAL CAFE ELISA ST EST703, Kalev Jahtklubi – Eero Pank, Rene Treifeldt, Kristiina truuverk, Ilmar Kompus, Indrek Tiits, Jan Raudsepp, Marten Loopere, Mihkel Karu, Rauno Otsepp, Ivari Vokk, Sven Nuutmann, Indrek Kasela.
All ORC II first three places went to boats from Pärnu Yacht club: Jaan Akermann and Sugar 2, Aivar Tuulberg and Katariina II and Alari Akermann on Merepärl with 13 – 20,5 – 21,5 points respectively. There were 17 yachts racing in the group.
SUGAR 2 EST711, Pärnu Jahtklubi – Jaan Akermann, Erki Melts, Aare Võsu, Siim Ots, Kaarel Kruusmägi, Kaspar Kõiva, Teele Viira, Tõnu Eensalu, Tiit Saulep, Ott Kikkas
KATARIINA II EST949, Pärnu Jahtklubi – Aivar Tuulberg, Sander Lints, Kevin Grass, Martin Aljaste, Priit Kumar, Karl-Hannes Tagu, Juhan Kolk, Olaf Sumberg, Christopher Juul
MEREPÄRL EST406, Pärnu Jahtklubi – Alari Akermann, Siim Erik Akermann, Janek Akermann, Marko Uulits, Tormi Jõgi, Arles Artma, Oskar Seeman, Toomas Rapp

The overwhelming winner of the ORC III, where also Estonian champions were established, was Andres Haavel and Kadri from Saaremaa Merispordi Selts with 9 points and four race wins. Yacht Prizrak with Dmitrii Mostovoy at the helm from Russia was second with 15 points and one race win. Yacht Edasi with a team of the Keert family and with Eiki Keert as captain from Kalev Yacht club was third with 19 points. There were 11 yachts racing in the group.
KADRI EST185, Saaremaa Merispordi Selts – Andres Haavel, Marko Tiiman, Jan Raudsepp, Tanel Õun, Urmas Pastarus
PRIZRAK RUS331, JKOB – Dmitry Mostovoy, Daniel Liburg, Olga Medvedeva, Alexander Shchegolev
EDASI EST11, Kalev Jahtklubi – Eeiki Keert, Fred Keert, Kristjan Keert, Sven Keert, Mari-Liis Keert, Taavi Keert

The winner of ESTLYS I was yacht Mir with captain Aleksandr Kulikov from Russia with 12 points and three race wins. Yacht Fanatic with Ain Jalasto from Kalev Yacht club was second with one race win and 15 points. Short track races winner Red Hot and Risto Laidla from Kalev Yacht club were third overall. There were 18 yachts racing in the group.
MIR RUS908, SpbRIver Y/C – Aleksandr Kulikov, Sergey Bryuzga, Andrei Bragin, Vasilii Stefanov, Valeriia Dementeva, Kirill Barantcev, Artem Korotkov, Andrei Maksakov, Aleksandr Sokolov, Pavel Bryuzga
FANATIC EST239, Kalev Jahtklubi – Ain Jalasto, Jaak Luik, Rain Pilve, Sven Vümma, Enn Pormeister, Üllar Tammiste, Toomas Lunts
RED HOT EST 453 – Risto Laidla, Vahur Nurm, Alar Volmer, Andres Pukspuu, Urmas Voit, Aadu Vooglaid, Ülo Kivistik, Karl Zdanovits
ESTLYS II winner with four race wins was Kalev Yacht club's yacht Brigitta with Mikk Metstak at the helm. Second was Margus Beljakov on Liliann from Saaremaa Merispordi Seltsis and third a Latvian yacht Arabella wiith Stanislavs Backans's team. The winning points were 13 – 20 – 26 respectively. There were 18 yachts racing in the group.
BRIGITTA EST239, Kalev Jahtklubi – Mikk Mestak, kert Valamaa, Roger Niitmäe, Karl Ahun, Priit Pajusaar, Gaius Mets
LILIANN EST396, Saaremaa Merispordi Selts – Margus Beljakov, Kristjan Männa, Riho Kukk, Tanel Tamm, Kutt Kommel
ARABELLA LAT173, Usmas YK - Stanislavs Backans, Gatis Backans, Martinš Bergs, Janis Vitols, Andris Zjatkovs
ESTLYS III undisputed winner with three race wins and 13 points was Haapsalu Yacht club's team on Aurora with Pille Kaas at the helm. Margus Tasa on Mercurius from Saaremaa Merispordi Selts was second with two race wins and 15 points. Kalev Yacht clubäs yacht Frida with Andres Kõnd was third with 35 points. There were 30 yachts racing in the group.
AURORA EST575, Haapsalu Jahtklubi – Pille Kaas, Joosep Link, Kristi Parro, Peep Teppo, Mart Kelk, Mikk Link
MERCURIUS EST45, Saaremaa Merispordi Selts – Margus Tasa, Indrek Kivi, Rain Aun, Tiina Maalinn, Ene Trei
FRIDA EST715, Kalev Jahtklubi – Andres Kõnd, Marek Rauk, Erik Noor
For Folkboots this year was especially complicated and arduous. The 2015 Estonian champion and class winner is Mikk Köösel on Greta with 10 points and four race wins. Second was Tee Chee with Peeter Välkmann and third Svea and Hard Perk from Kalev Yacht club. There were 9 Folkboots yachts racing.
GRETA EST5, Kalev Jahtklubi – Mikk Köösel, Ingrid Köösel, Tarvo Kubja
TEE CHEE EST F38, Neem – Peeter Välkmann, Enn Normak, Stasys Malinauskas
SVEA EST23 – Hard Perk, Tõnis Piirsalu, Kristin Karp
Also a couple of humorous special prizes were given out at the end of the regatta. These prizes were given to: the youngest participant – 13-year-old Mona Tammemägi from yacht Premium; the oldest participant – Toomas Kiiver born in 1942 from yacht Venus; the youngest captain – 18-year-old Mihkel Šešterikov from yacht Maris; the youngest team of the regatta – Lagle II from Saaremaa Merispordi Seltsis with Ülari Velviste, Uku Kuusmaa, August Luure, Erich-Otto Eller, Eke-Ao Netten and Peeter Kaju who averaged at 17,6 years of age; the oldest boat at the regatta who was also the first to register - Hard Perk's Svea from Kalev Yacht club. Two all-women teams were also applauded: yacht Kaija from Noblessner Yacht club and yacht Divine Intervention. The author of the trophies given to all 21 best teams of the A. Le Coq 58th Moonsund regatta is glass artist Agnes Torm.

Only a week and a half is left for the ORC I and II teams to wait until ORC class Estonian champions will be established and between August 10 – 16 Pärnu will host Volvo Estonia ORC class Offshore European Championships.

Final press release with all pictures and videos in the biggest news portal Postimees

All pictures and videos can be found here muhuvain.ee/galerii-2015